HOT
Cranes
Single Girder HOT Cranes (SG - HOT)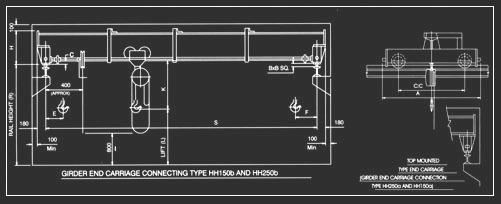 Specifications/Dimensions (mm)

Capacity (T)
End Carriage
Type

Span
S(M)

Approx.Static Wheel
Load (KG)

Approx. Crane Weight Approx (KG)

H

B

C-C

A

K

E=F

C

1T HH 150 a

3

590

400

475

30/32

750

1110

565

400

205

4

620

425

475

30/32

750

1110

565

400

205

1T HH 150 a

5

700

575

485

1200

1560

565

400

205

6

730

675

525

1200

1560

565

400

205

7

770

725

525

1600

1960

565

400

205

8

800

825

575

1600

1960

565

400

205

9

850

975

625

2000

2360

565

400

205

10

860

1025

625

2000

2360

565

400

205

11

960

1375

630

2000

2360

565

400

205

12

990

1575

630

2400

2760

565

400

205

2T HH 150 a

3

1040

425

475

30/32

750

1110

690

400

205

4

1090

500

525

750

1110

690

400

205

2T HH 150 a

5

1180

600

525

1200

1560

690

400

205

6

1220

700

525

1200

1560

690

400

205

7

1290

875

625

30/32

1600

1960

690

400

205

8

1320

975

625

1600

1960

690

400

205

9

1360

1075

625

2000

2360

690

400

205

2T HH 150 a

10

1360

1275

725

30/32

2000

2360

690

400

205

11

1480

1450

775

2400

2760

690

400

205

12

1520

1700

775

2400

2760

690

400

205

3T HH 150 a

3

1500

525

525

30/32

750

1110

765

400

205

4

1570

600

575

750

1110

765

400

205

5

1670

1050

685

1200

1560

765

400

205

6

1720

1150

735

1200

1560

765

400

205

7

1790

1400

745

1600

1960

765

400

205

3T HH 150 b

8

1850

1575

565

30/32

1600

1960

765

400

35

9

1880

1650

565

2000

2360

765

400

35

10

1950

1850

575

2000

2360

765

400

35

11

2010

1950

625

2000

2360

765

400

35

12

2060

2250

625

2400

2760

765

400

35

5T HH 250 a

4

2560

1050

685

30/32

1200

1660

885

400

320

5

2630

1150

735

1200

1660

885

400

320

5T HH 250 b

6

2720

1300

565

1200

1660

885

400

50

7

2790

1500

565

1600

2060

885

400

50

8

2860

1700

615

1600

2060

885

400

50

9

2920

1850

625

30/32

2000

2460

885

400

50

10

2980

2050

625

2000

2460

885

400

50

11

3080

2400

715

2000

2460

885

400

50

12

3190

2750

725

2400

2860

885

400

50

7.5.T HH 250 a

3

3540

1100

685

40/42

1200

1660

1000

450

320

4

3710

1250

735

1200

1660

1000

450

320

7.5.T HH 250 b

5

3840

1400

565

40/42

1200

1660

1000

450

50

6

3940

1550

575

1200

1660

1000

450

50

7

4060

1860

625

1600

2060

1000

450

50

8

4130

2000

625

2000

2460

1000

450

50

9

4240

2350

715

2000

2460

1000

450

50

10

4320

2600

725

2000

2460

1000

450

50

11

4450

3000

725

2000

2460

1000

450

50

12

4530

3250

725

2400

2860

1000

450

50

10T HH 250 a

3

4630

1200

736

50/52

1200

1660

1120

450

320

4

4860

1300

745

1200

1660

1120

450

320

10T HH 250 b

5

5020

1475

575

50/52

1200

1660

1120

450

50

6

5140

1675

625

1200

1660

1120

450

50

7

5270

1950

690

1600

2060

1120

450

50

8

5380

2250

715

1600

2060

1120

450

50

9

5480

2500

725

2000

2460

1120

450

50

10

5550

2650

725

2000

2460

1120

450

50

11

5720

3200

735

2000

2460

1120

450

50

12

6030

4350

715

2400

2860

1120

450

50

15T HH 250 b

4

6660

1900

575

60/62

1200

1660

1260

775

50

5

7020

2050

625

1200

1660

1260

775

50

6

7300

2350

715

1200

1660

1260

775

50

7

7530

2650

725

1600

2060

1260

775

50

8

7690

2850

725

1600

2060

1260

775

50

9

7910

3350

735

2000

2460

1260

775

50

10

8120

4800

745

2000

2460

1260

775

50

20T HH 250 b

4

8740

2220

625

60/62

1200

1660

1300

775

50

5

9210

2400

625

1200

1660

1300

775

50

6

9550

2700

725

1200

1660

1300

775

50

7

9850

2900

725

1600

2060

1300

775

50

8

10220

3950

715

1600

2060

1300

775

50
Single Girder HOT Cranes (SG - HOT)

Capacity
(T)

Span S(M)

Approx. Static Wheel Load (Kg)

Approx. Crane Weight Approx. (Kg)

H
(Min)

B

C:C

A

K

E

F

C

3T

10

2470

3380

960

30/32

2000

230

100

800

800

50

11

2580

3810

1060

2400

12

2640

4030

13

2710

4340

14

2870

4970

3000

15

3030

5610

1110

5T

10

3540

3590

1060

30/32

2000

230

200

800

800

50

11

3610

3860

2400

12

3700

4250

13

3920

5110

1110

3000

150

14

3990

5390

15

4350

6830

1210

100

7.5T

10

4890

3940

1060

40/42

2000

200

800

800

50

11

5030

4520

1110

2400

230

150

12

5110

4840

13

5450

6190

1210

3000

100

14

5540

6540

15

5620

6880

10T

10

6250

4300

1110

50/52

2000

230

300

800

800

50

11

6550

5490

1210

2400

200

12

6640

5840

13

6750

6290

3000

14

6840

6640

15

7030

7410


* Lift of cranes (L) = Rail height (R) + C - K
Notes : 1) Crane weight given above includes weight of CPB & Trolley for 10 mtr. lift only.
2) Crane weights and wheel loads are approx. Values given to evaluate size of supporting structure.
3) For every fraction of spans above the specified spans, dimensions of nearest higher span shall be applicable.
4) Cranes can be offered to suit higher size of runway rails on request.
5) Data tolerance +/- 10%.
6) For SG - HOT
Specifications
The Cranes are designed and manufactured in accordance to IS 3177 \IS 807. Design of the crane structure as well s components/parts of the cranes shell confirm to class-I duty of the above codes.
Bridge - It is as per IS 807/IS 3177/IS800.
These are standard I beams of M.S. rolled steel sections bolted to end carriages.
End Carriages- Box type in construction & fabricated from rolled section.
L.T. Wheels-Two nos. straight type, En8 forged steel ,double flanged LT wheels are provided in each of the two end carriages. These wheels are supported on steel axels. For under slung cranes S.G.I tapered type single flanged wheels are provided.
Pinion/ Axle- Made from En9, heat treated carbon alloy steel.
Gears - They are as per IS 4460 , made from EN 8 and are supported on ball bearings.
Bearings - Heavy duty sealed ball bearing are used thus regular lubrication is eliminated . Two ball bearing are provided in each wheel for smooth running.
Hook- It is as per IS 8610 / IS 3815. Made from forged steel - C20, C30 or equivalent. It is collar or shark type in construction with safety latch.
Hoists- 'INDEF' brand chain pulley block .
The block is as per IS 3832 with triple spur gear and friction disc brake (self actuating type construction). Load chain wheel is made of heavy duty S.G.I. casting with accurately cast chain pockets . Load chain wheel is mounted on two ball bearings for smooth operation. Bottom block is made of heavy duty malleable casting . each block is tested to 50% over load.
Load Chain- Grade 80 alloy steel as per IS 6216.
Hand Chain- Grade 30 M.S. chain as per IS 2429.
Testing- For all motions at 25% over load as per IS 3177.