Jib Cranes Pillar &
Wall Mounted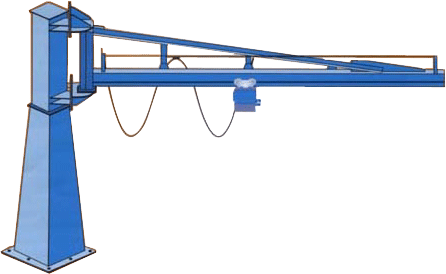 Special Features
Created by use of Modern Software's for design and calculations
Specially fabricated robust pillar and JIB arm
Quick Deliveries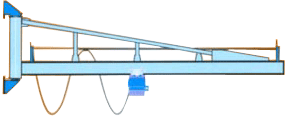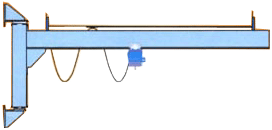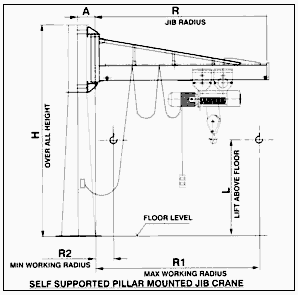 Special Features
The Pillar is tapering so that the increased section at the base provides good rigidity to the structure.
The pillar and arm are designed to ensure minimum deflection at loaded conditions.
Jib of wall mounted jib cranes is supported by brackets bolted on wall, or on column of existing structure.
Special Features
Jib cranes are available in two types in following range.
1) Self supported pillar mounted.
2) Wall mounted
M CAPACITY : 250 kg. to 5000kg.
JIB RADIUS : UPTO 6M.
LIFT : UPTO 6 M
Specifications
'INDEF ' Jib Crane is a simple and robust mechanism . They are intended to serve many purposes for most of the industries. Jib cranes are particularly suitable for machine loading , material loading / unloading light assembly work.
Jib cranes consist of Jib arm made from Light Profile section and are supported on anti friction bearing to ensure long trouble free services.
The Jib Cranes are designed to suit all the required specifications of our customer . we provide our standard electric hoists manually operated hoists as per the specifications of our customers.
Jib Cranes are available in two types in following range.
1) self supported pillar mounted .
2) wall mounted.
Capacity : 250 Kg. to 5000 Kg.
Jib radius : Up to 8 M
Lift : Up to 10M
Test - Each crane is tested and accompanied by our Test Certificate.
Guarantee- A guarantee is provided for the repair and replace , F.O.R. Mumbai, of any part which proves defective in material or workmanship within one year of sale.
Improvements- Our engineering department continuously works on design improvement and we reserve the right of affecting any change found necessary without notice.
"INDEF" Products-
0.5 to 50T chain pulley blocks
0.5 to 10T chain electric hoists
0.5 to 15 T wire rope hoists
manual & electric trolleys
0.5 to 20T HOT cranes
0.5 to 40T EOT cranes
1to 3 T Jib and wall mounted cranes
1 to 2T floor Operated stackers
1 to 3T Stores stacker cranes and 10 to 25T Roll out racks.